Project -

Timber-Aluminium Windows, Hampstead
---
Contractor – Optic Realm
Location – Lancaster Grove, Hampstead
---
Background
At the centre of leafy Lancaster Grove lies a modern bespoke apartment block that hosts 15 living spaces. It is located in the heart of Hampstead. The 15 apartments featured in this commercial project required high specification, which made Internorm the perfect choice for industrial windows for this project.
Brief
The Internorm Distribution Partners that completed this project had to work around a number of technical challenges to achieve the perfect finish for the apartment block. The commercial glass balustrades were integrated without a stainless steel top trim to maintain the cleanliness of lines, and the high-level windows required electric actuation in order to provide ventilation without the need for any ugly, external hardware.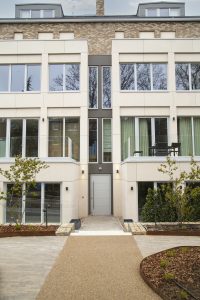 Buying Drivers
The windows that we fitted on the apartment were our commercially registered Internorm HF310 timber aluminium windows, which offer high commercial performance. We opted to install a timber aluminium composite window with a 48mm triple glazed unit. What sets these windows apart are their extremely low U-values of around 0.78, which further helps trap any warm air into the property.
From a commercial standpoint, we understand that having heightened property security is key. These timber aluminium composite windows reinforce the safety measures up to RC1N and RC2 which helps combat the very latest in burglary techniques.
Alongside Optic Realm, we decided that the properties of the timber aluminium would work best for the residence of these apartments. By opting to use a flush aluminium exterior it provided us with a is really low maintenance product with nice crisp lines.
We were also able to provide Optic Realm with an extensive portfolio of colours and styles to choose from, so they wouldn't have to compromise on the style of windows that they wanted to fit.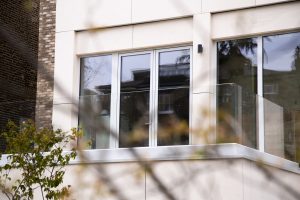 Internorm Products
HF310 Timber Aluminium Composite Windows incorporating the aesthetically pleasing properties of timber finish for the interior. This then provides a homely feeling for the residence, as the occupants and target for the windows were residential. Our timber aluminium composite windows are just one of a number of our products that meet Passive House Standards. This certification means our windows are commercially eco-friendly and retain heat expertly which prevents the need for heating or air conditioning.
---